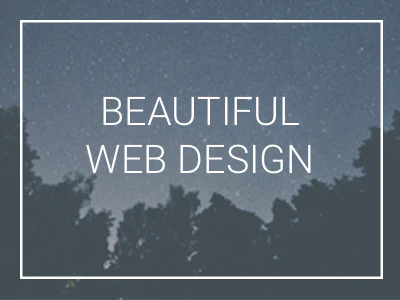 A great website is tricky to get right. It's subjective and everyone has their own idea of what a great website looks like.
If you ask a number of people what it looks like, you'll get a range of different answers. But even with the subjective nature of personal taste, there are several key factors in creating a visually appealing and effective website.
Fancy Web Design
Most noticeably, the website design can easily turn a mediocre website into a great website. There are fundamental design principals that goes into web design, and it extends into every design discipline. Web design, print design, and graphics design, they all share the same underlying design principals.
Web design is no exception and to create a visually appealing design requires creative thinking in the arrangement of text, images, navigational links, and page elements. A great web design convinces users not to close the tab in the first 5 seconds. Finding the reason for their visit convinces them to stay.
Why Am I Here?
When developing a website, it's important to consider the purpose of the website. If it's purely informational, is your text readable? Are images nicely presented? If it's to promote a mobile application, does it give a clear description of what the app does and links to download it? Are there fancy images that sell the product? Users should be able to quickly and efficiently locate the reason for their visit. Consider why users are visiting your site, and design your website to emphasis that key point.
The Rise of Mobile Browsing
60% of all internet traffic in Australia is now from mobile devices. With mobile devices being such a dominant portal to the digital world, it is absolutely crucial for websites to be mobile friendly. Simply squeezing a full blown website down to mobile screen dimensions isn't good enough. Buttons get tiny, and text becomes unreadable without constant zooming. A great website looks great no matter the screen size. Every time you browse on a mobile, a developer has taken extra steps to ensure the website you're seeing looks great on mobile and presumably desktops too.
We Go Past and Beyond Mediocre
A great website isn't just from the aesthetics. It's about the user experience and how they interact with the website. Give your users a reason to visit your website. And give them a reason to stay. There's nothing faster that makes a user close your website than a horrendous web design. Except maybe obnoxious autoplaying music.