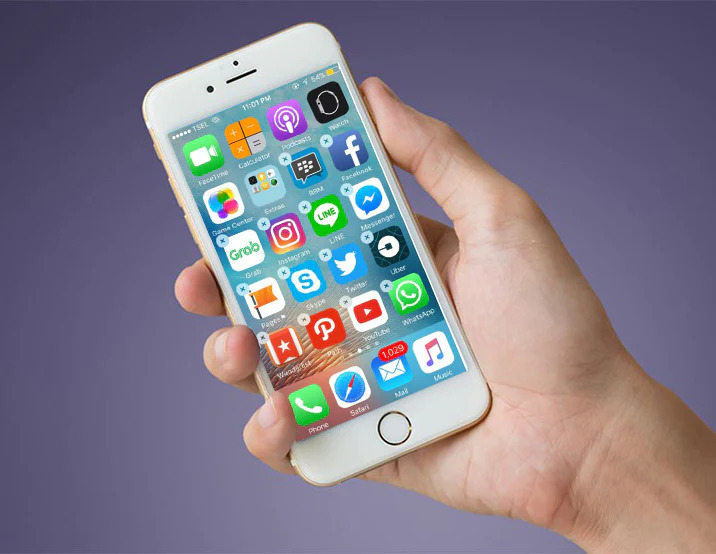 Mobile app abandonment is one of the major concerns businesses and startups face when taking the plunge to create and develop a mobile app. With studies showing that users tend to prefer using apps from well-known developers, third-party apps are finding it increasingly difficult to retain users and reach download goals. Even if your app is successful in achieving a reasonable number of quantifiable downloads, this initial happiness can be easily forgotten as the daily active user count continues to decline…
The sad reality is that anywhere from between 80 to 90% of apps are used just once and sent to the app graveyard with all the others that failed to impress consumer expectations. If this doesn't already send shivers down your spine, a new study shows that about 1 in 4 mobile users only open an app once.
Why? The reasons can vary greatly depending on your app's target market, audience, goals, functionality and usability, to name a few. This is why it is crucial to set your app apart from the rest, and implement strategies which can help your app to survive and thrive amongst the millions of others available on the Apple iTunes Store and Google Play.
Let's find out how these four tips can help you to combat mobile app abandonment!
Increase App Retention by Utilizing In-app Messages and Push Notifications
In-app messaging is a highly valuable tool for increasing user retention, it lets you engage smoothly with your users and customers at the moment when they are most likely to respond - when they're in your app. The big take-away here is this option can improve user retention by 46%, in fact apps utilizing in-app messages see their users return 11 or more times, in comparison to apps not incorporating an in-app strategy who see that number drop to 36%.
Push Notifications allow an app to retain users both in the short and long term. By allowing these notifications, users are able to be regularly reminded or gently prompted to continually return to an app - thus keeping the app in the user's mind and setting the stage for greater user loyalty. Why are push notifications beneficial in fighting back app abandonment? Simply, it increases app engagement, which then means more app launches, regular visits and less chances of your hard work being abandoned or, even worse, deleted.
Importantly, apps utilising push notifications have seen an increase in app engagement of 171%. This is significant because it means users who opted to receive push notifications averaged 3 times more app launches than those who opted out.
App Onboarding Complements UX
Take the onboarding process seriously. Similarly, don't skimp out on creating a perfect user experience (UX) - it remains one of the highest priorities within the initial planning and development stage of an app and will contribute immensely to user retention.

Why is UX so important? It indicates largely how the user will interact within the app - those that are not intuitive, easy to use and relevant will not keep the user interested - and when a user becomes indifferent to your app that is when the digital doors close.
Designing and developing an onboarding strategy should be done with perfection and UX at the forefront as it is crucial in making a user come back to your app and convincing them to use it frequently. But why does onboarding complement user experience? The success of an onboarding campaign can only be achieved when you have the users satisfaction in mind, and users will only return to your app - not abandon it - if they are satisfied with the many aspects that UX encompasses.
Steps you can take in order to avoid poor user experience include: ensure regular and personalised notifications, authorisations and options. Allowing your users to be able to control faucets of your app will ensure they won't delete it or not come back again due to sheer frustration. A simple example of this is to ensure that you include a 'skip' function of full screen tutorials (in-app) within the initial onboarding process.
However, don't forget the importance of user design (UI)! UI design plays a huge role in keeping users comfortable and happy with your mobile app, with studies showing that initial and ongoing judgments on website credibility are 75% based on a website's overall aesthetics.
Track Your App's Data
Evaluating your analytics by regularly tracking your data and crash logs is pinnacle to being able to effectively combat app abandonment. Users will rarely give detailed feedback - if any at all - it is upto you and your dev team to be able to take the time and analyse why your app was only opened once and never again.
In order to acquire information about why users are abandoning your app you should use data derived from the analytics of your app. This will give you actionable insights which determine very valuable information: how users interact, how many updates have been installed, the amount of in-app purchases, downloads by quantity and channel, active users, active session duration and retention rate (returning users vs new users) to name a few. Acknowledging this data will allow you to take onboard these metrics and create a plan to optimize your app and, hopefully, improve the amount of returning users.
Issues which are causing app abandonment can easily be fixed by developers if they have the right information - which is why analysing your data analytics is important. User loyalty seems to be the biggest issue businesses face with app abandonment - which is why, if you're looking to build an app or have an app already - it is crucial to be working with developers who implement loyalty as a core strategy and who highly value UX and UI not only in the initial creation stage, but from rollout and up to app maintenance.
Here at PixelForce we are proud to be able to put user experience at the forefront of our minds when developing an app. Got the next big app idea, or worried about usability of your current app? We'd love to hear from you!