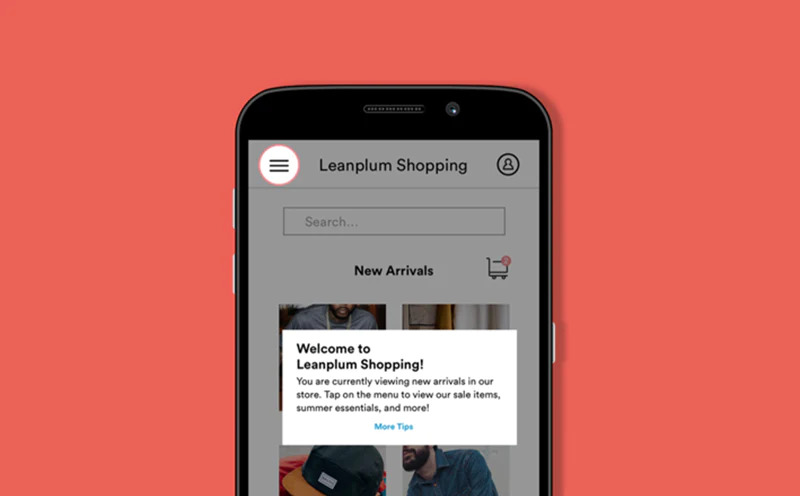 Whether you're in the mind frame of creating a new app or in a precarious stalemate with your existing product, the benefits of in-app messaging may prove to be your newest best friend for all your marketing and communication needs. The medium presented by in-app messaging allows you to simultaneously connect with all your most engaged customers - the ones currently visiting your app or site.
In-app messaging means that your audience will only see and receive these certain communications directly within your app or website. This can be a double-edged sword, but it is best to remember once the user is engaged, or visiting your app, you are then able to create the means for facilitating further engagement.
It is important to be able to leverage the most value from your web or mobile app, which is why we've put together this article detailing the top 3 benefits of using in-app messaging for your business.
1. Allows you to reach users at their most engaged
Due to the inherent nature concerning the lines of communication - what cannot be seen or heard cannot be acknowledged - if users aren't constantly using your app or website they will not receive any communication via in-app messaging from you, something which can be worrisome. However, as in-app messages are delivered exclusively to active users, it is great for focusing on developing long-term relationships as the customers you reach are those that are already engaging in your brand. They are ready to learn more or hear something new: this is your chance.

Whatever you intend to accomplish with your messaging: boost sales, receive positive feedback or constructive criticism, encourage sharing on social media platforms, improve user functionality or promote optional add-ins, active users will be your most receptive audience. Once you know visitors are present in-app or on-site, you are able to use in-app messaging to encourage other options like popular push notifications - hence furthering your reach and creating the initial steps to retain users. Sending in-app messages allows you to reach targeted users on a deeper level and gives you the opportunity to create more chances of deepening the client-user relationship.
2. Successfully onboard customers
Onboarding is essential. In order to reach customers at their most engaged, they need to be actively using the app or viewing your website, which means that you want them to visit regularly. In order to achieve this it is essential to create and implement an onboarding technique that makes new customers want to stick around by encouraging them to discover what's unique, fun and interesting about your app during their initial visits.
In-app messages allow new users to be alerted and gently nudged in the forthcoming processes, such as creating an account, watching a tutorial, getting started and activating push notifications. This is important for the future success of your app, because in-app messaging, when paired with push notifications (as an example) creates a convalescing effect in the onboarding process - this has been shown to increase customer retention by 130% when used effectively.

Upon app launch, Duolingo makes use of full screen in-app messages, one of the few different types of in-app messaging formats used by mobile marketers and developers, in order to give customers a tour of its features. You will notice the tour ends with a call to action, one which can be personalised to hit your own target goals.
3. Personification
What makes apps and mobile devices so popular is their ability to become an extension of you. One of the key advantages of in-app messages are demonstrated in their versatility, they can be subtle or more provocative. In-app messages can be created to mirror the look and feel of your app or website, allowing software developers to easily send in-app messages that feel like an organic part of their existing platform. Short, minimal prompts similar to banners or push notifications can be used to alert customers to urgent information, such as a time-sensitive sale. Alternatively, in-app messages can also be programmed as a fully user immersive experience - full screen messages, such as the tour above, are well-suited for conveying in-depth information or to complement a call-to-action.
Adding each customer's name to the in-app messages you send is a great way to personalise your outreach. This can be done by leveraging the information stored on your servers or data that is accessible via public APIs - thus making your messages more personal and, in turn, more relevant to the user.
As the digital industry matures startups to big companies are realising how crucial it is to employ robust and innovative knowledge to your web or app creation. Many of the above features can be personified to meet your time, skills and budget. The onboarding process could be a permanent part of the app, built by your developers. It can also be provided on-demand, using in-app messages created by you.
Ready to take a deeper dive into digital web and app technology and how it can benefit your business? Here at PixelForce we have the expertise and knowledge to take your app from dream to reality, with expert advice and management of everything in between.