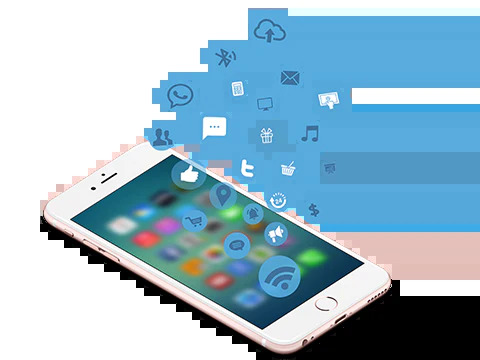 In today's technology driven and increasingly interconnected world, mobile apps can be said to be as ubiquitous as oxygen, especially for the digital, innovation and research industries. From redefining the way we think and the way we perform daily activities to organising the future, revolutionary technologies such as IoT, AR and wireless connectivity is allowing us to create mobile apps that work as the pinnacle foundation to connect us to the world like never before.
By 2020, there would be 24 billion IoT devices installed all throughout the world, it is also predicted that this year alone, we would see 5.5 million new Internet of Things enabled devices being connected daily. This shows us that wireless innovation continues to progress at a building rate every year, and that Mobile Satellite Services (MSS) and Machine-to-Machine (M2M) connectivity will interconnect with the Internet of Things (IoT) to further accelerate mobile opportunity and transform how we and our devices interact.
IoT Explained
IoT refers to the encompassment of all web-enabled devices that have the ability to connect, send, interpret and act upon data they acquire from their surrounding or predetermined environments using technology such as embedded sensors, processors, CRM, wireless and satellite connectivity as well as communication hardware that talk to each other by exchanging this information with other connected devices or the end-user.
The bottom line is that by capitalising on IoT through mobile connectivity platforms such as wireless and mobile apps we can make virtually anything more intelligent. This holds great promise for our economy, environment, safety, standard of living and the capacity to expand upon existing technology for future growth and the ability to explore the unknown.
Mobile Apps & IoT
Mobile devices and apps set the foundation to put them at the IoT ecosystem's core. Mobile apps are often specifically written and coded to take advantage of the unique native features of a mobile device and its Operating System (OS), which arguably have set the motion for the rise of the Internet of Things. With the explosion of IoT already taking hold on our world, smart cities, smart homes and connected machines are reliant on the portable and easily accessible connectivity of mobile devices, mobile apps, tablets and wearables that act as the main interface through which we could interact with an IoT enabled device.
With the foundation already set with an accessible native UI, mobile devices and apps have great potential to be developed to suit a multitude of different industries and individuals:
Mobile devices are already empowered with inbuilt sensors, and applications which have the ability to reveal crucial information regarding their users, such as geo-location, traceable light condition and orientation of the device.
They come with numerous connectivity choices, which are readily and easily accessible, such as WI-Fi, Blutooth, cellular and NFC which allow them to communicate with other sensors and devices.
IoT enables you to operate, access and monitor a system or connected device's environment remotely. Mobile connectivity and a device's built-in sensors strengthen and allow users to capitalise on the viability and potential of the IoT ecosystem.
Thus it is evident that the default qualities and features of mobile devices, coupled with targeted mobile apps, put them at the heart of an IoT system. It is this connectivity which can be optimised with the addition of a complimentary mobile app that will pave the way for a new world of development and opportunities in various sectors of our society, from retail to space, healthcare and education, there are a multitude of accessible opportunities.
Satellite Connectivity Potential with IoT
The Internet of Things movement is already set to deliver many kinds of new services enabled by the relentless shift towards a world filled with the interconnected network of devices as well as set the pace for unleashing a new wave of disruptive innovation and technologies.
Satellite technology is crucial in providing vital communication links to remote, and even urban areas, when terrestrial networks are unavailable, 'down' or simply out of reach. Although we have seen a roll-out of terrestrial networks to a majority of the world, there are still many parts of the world which remain unconnected and reliant on satellite connectivity, due to costs, or physical inability to connect via terrestrial networks. As such, satellite technology has the real potential to play a key role in enabling mobile apps and other digital technologies that are making IoT so prevalent in our society. Satellite connectivity holds many benefits for empowering the IoT, and even mobile app, movement:
It will offer omniscient coverage, emerging from the connectivity of intelligent devices. Mobile devices, and in turn mobile apps, may be able to meet the IoT network coverage demands by connecting between satellite operators and carrier integrated services.
It is clear that in the future mobile apps will work very closely with the Internet of Things to provide us with challenging, innovative and enticing possibilities. Whether you are an owner of a business, a coder, designer, quality analyst or an innovative application developer, great times lie ahead in the busy mobile application development world.Future developments in the relationship between IoT and mobile apps have the power to produce a better developed and connected world for all of us. Although it is slated to grow even more robust in the future, the Internet of Things and it's associated devices are already being used in our daily lives, from Google Home to Amazon Echo.
One thing is certain, and that is the IoT world will continue to grow and rely on mobile apps at their core. Got an idea for a mobile app that can work together with IoT and lead us to a more connected world? Here at PixelForce we are always interested in hearing fresh and innovative concepts to bring to life.