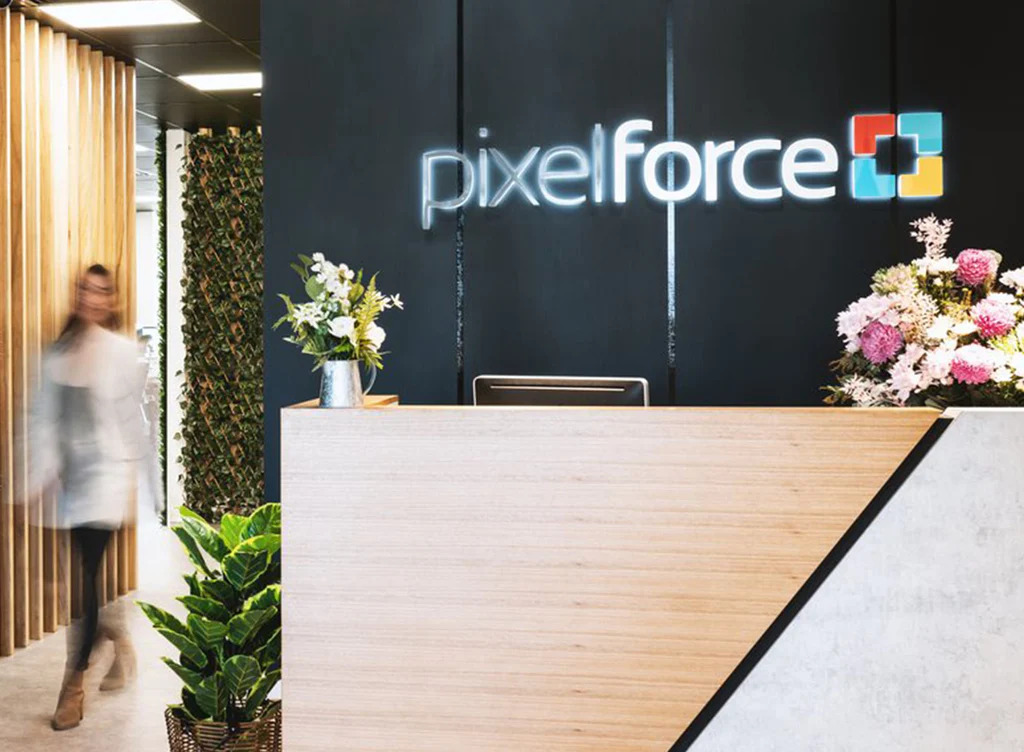 9 years in operation and with over 40 staff, read about how PixelForce began its story and the drive that got us to where we are today.
2011
The PixelForce story began as a final year university project our Managing Director, Hinney Lo, undertook with a fellow classmate. Designing branding assets for a mock business, the idea grew into a full blown business venture. From this moment, PixelForce Digital was born and from humble beginings, our web design services were offered to the public for the first time.
2012
With a Masters in Design and a sound understanding of all things digital, Hinney saw great potential in web design. Along with fellow friend and business partner, Ben Zhang took on the role of web developer, ensuring Hinney's designs met excellent function on a backend level. With a web designer and web developer working together in unison, PixelForce Digital adapted the name to PixelForce Systems and operated a small office in Adelaide's CBD.
2013
PixelForce Systems, in our early days, had great relationships with a number of clients from the wine industry, notably Angove Wines and Stones. Many early projects involved a range of graphic design and web development services, specifically eCommerce. With Hinney leading the helm in web design and Ben leading web development, our tiny web studio embraced every new project and started gaining a reputation for quality web designs.
2014
With an increasing number of projects, we needed to grow. From our first office in the Adelaide CBD, we moved to a larger and more spacious Norwood office, just minutes from the city. Sensing the mobile trend of increasing app usage, PixelForce Systems also expanded our mobile developers team to support the wave of mobile app specific projects. At this time, PixelForce were starting to really shine. We were trusted time and time again with more mobile app projects, both enterprise level and new startups.
2015
With a new beginning in mind, we again adapted our name to now simply PixelForce and established a core team of senior mobile app developers, including specialised iOS and Android app developers. With a strong developer team for both web and mobile projects, our talented teams were again put to the test with the rollout of a new mobile app with a worldwide user base.
2016 - 2017
With our continued success and strong ambitions to grow, PixelForce began to acquire a large number of talented designers and developers to support the wave of incoming projects. Having quickly outgrown the Norwood office, PixelForce secured a new open space big enough to hold every employee under the same roof.
We renovated the space to encompass a modern and collaborative workspace, with open columns intertwined with digital devices and neat technological gadgets. The team now sits in a completely open floor, needing only a quick head turn to speak with coworkers.
2018
PixelForce was recognised as one of South Australia's top 25 fast moving businesses in South Australia by Brand SA - in fact we finished in the top 10, placing 6th!

Our Managing Director and Founder Hinney was also featured in a promotional video for the University of Adelaide titled "Be Better Prepared", which explained how he turned his passion for design into a career.
2019
Hinney Lo, Managing Director of PixelForce, was nominated as part of South Australia's finest young businesspeople, honoured at InDaily's 40 Under 40 awards. The award showcases the energy, innovation and diverse accomplishments of the state's future industry leaders.
The nominees represent an array of industries including sports administration, hospitality, aeronautics, communications, energy, legal services, healthcare, entertainment, banking, tourism and security – and dozens of others.
Nominees were judged on entrepreneurship, leadership and risk-taking – as well as for their success and for their contributions to the community.
Rounding the year out, Hinney's leadership was once again recognised with an ACS Digital Disruptor Gold Award (Young ICT Professional of the Year). This saw the PixelForce team travelling interstate for an award ceremony held in Victoria.
2020
Having quickly outgrown the space Parkside offers, we have embarked on a new office and location, securing a long term lease of 6 years in Kent Town. With a custom fit-out and plenty of space, the amazing team will have many more opportunities to offer our very talented services to all current and future clients.

From a duo of uni graduates, PixelForce now proudly employs a family of very talented people, each of whom have been a big part of our success story from a small university start up project to one of Australia's most talented studio in web design and mobile app development. With a bright future ahead of us, who know's where we'll be in another 10 years time.