Connecting Anaesthesia Providers and Facilities: Building a True Freelance Marketplace

The anaesthesia sector has long faced challenges in efficiently connecting providers to healthcare facilities. Traditional methods lack transparency, come with high fees, and often result in suboptimal matches between providers and facilities. But fear not, because 1Mac is here to revolutionise this process with their streamlined, transparent platform that reduces costs for both parties involved. Let's dive into how they achieved this feat.
The Challenge
Inefficiencies and Suboptimal Matches
The anaesthesia sector has been plagued by inefficiencies when it comes to connecting providers with healthcare facilities. The traditional methods have proven to be less than ideal, lacking transparency and burdened with exorbitant fees. As a result, providers and facilities often end up with suboptimal matches that do not fully meet their needs. This creates frustration and hampers the delivery of quality healthcare services.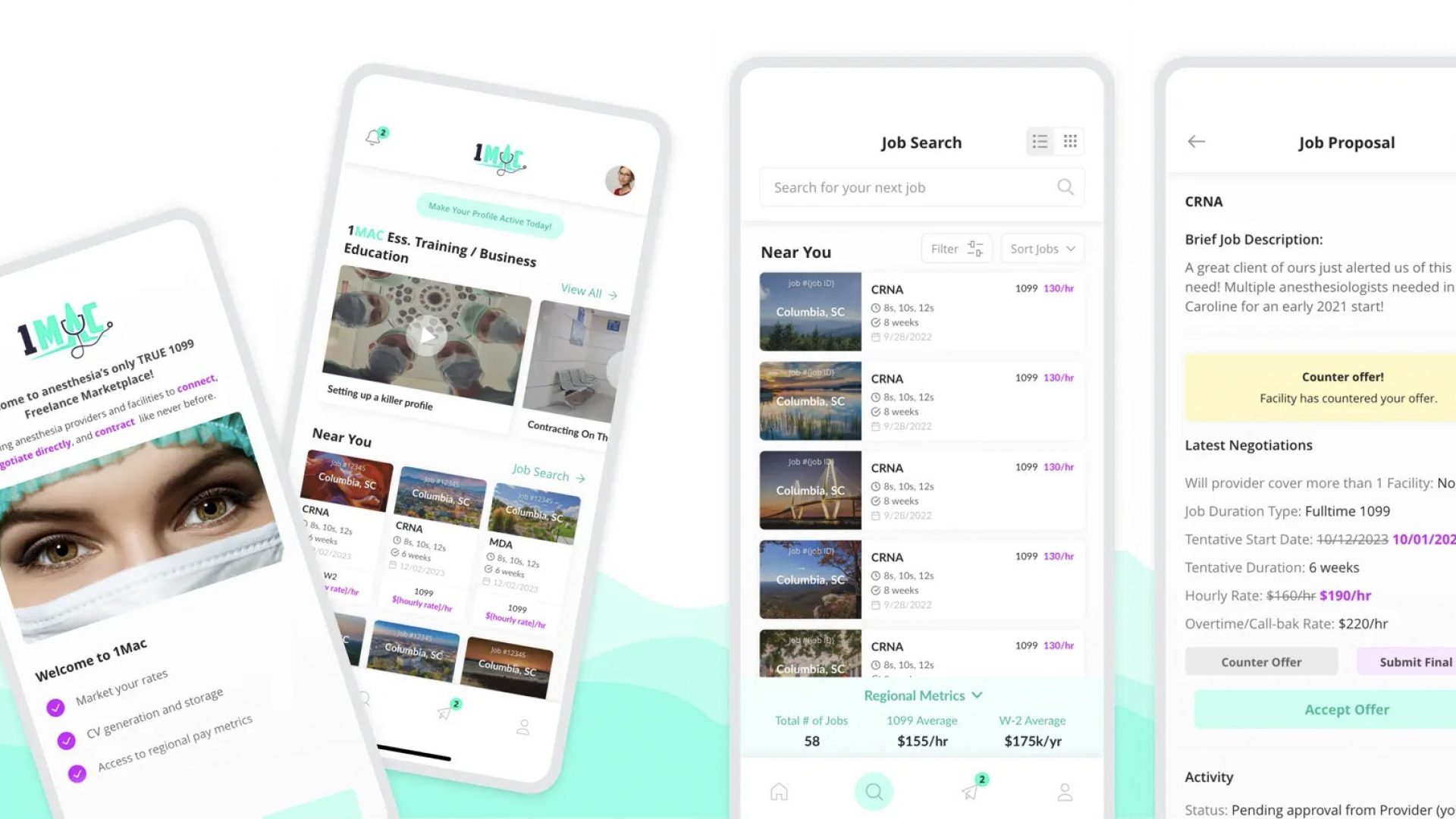 Our Approach
Collaboration Across Continents
When 1Mac approached us at PixelForce, based in South Australia, our challenge was not only to build a multi-sided marketplace for anaesthesia providers and facilities but also to do so across opposite time zones and entirely remotely. We embarked on a series of virtual meetings, immersing ourselves in understanding the unique needs of the healthcare industry, particularly the anaesthesia sector.
We recognised the importance of data compliance and security in medical software, and our team worked diligently to ensure that all regulations were met. Throughout the design and development process, we maintained constant communication, transparency, and a shared commitment to excellence. Despite the geographical distance, our collaboration was seamless, with regular updates, feedback sessions, and agile adjustments to keep the project on track.

Crafting a User-Centric Platform

Drawing on our expertise in building multi-sided marketplaces, we set out to create a transformative platform that would revolutionise how anesthesia providers and facilities connect and negotiate contracts. Our focus was on delivering an intuitive user experience, tailored to the specific needs of both sides of the marketplace.
We understood that security was paramount, especially when dealing with sensitive medical data. Therefore, we implemented robust measures to protect user data and ensure compliance with all relevant regulations. Our goal was to provide a platform where providers and facilities could connect directly, negotiate contracts, and manage their profiles with ease, all while maintaining the highest standards of security and compliance.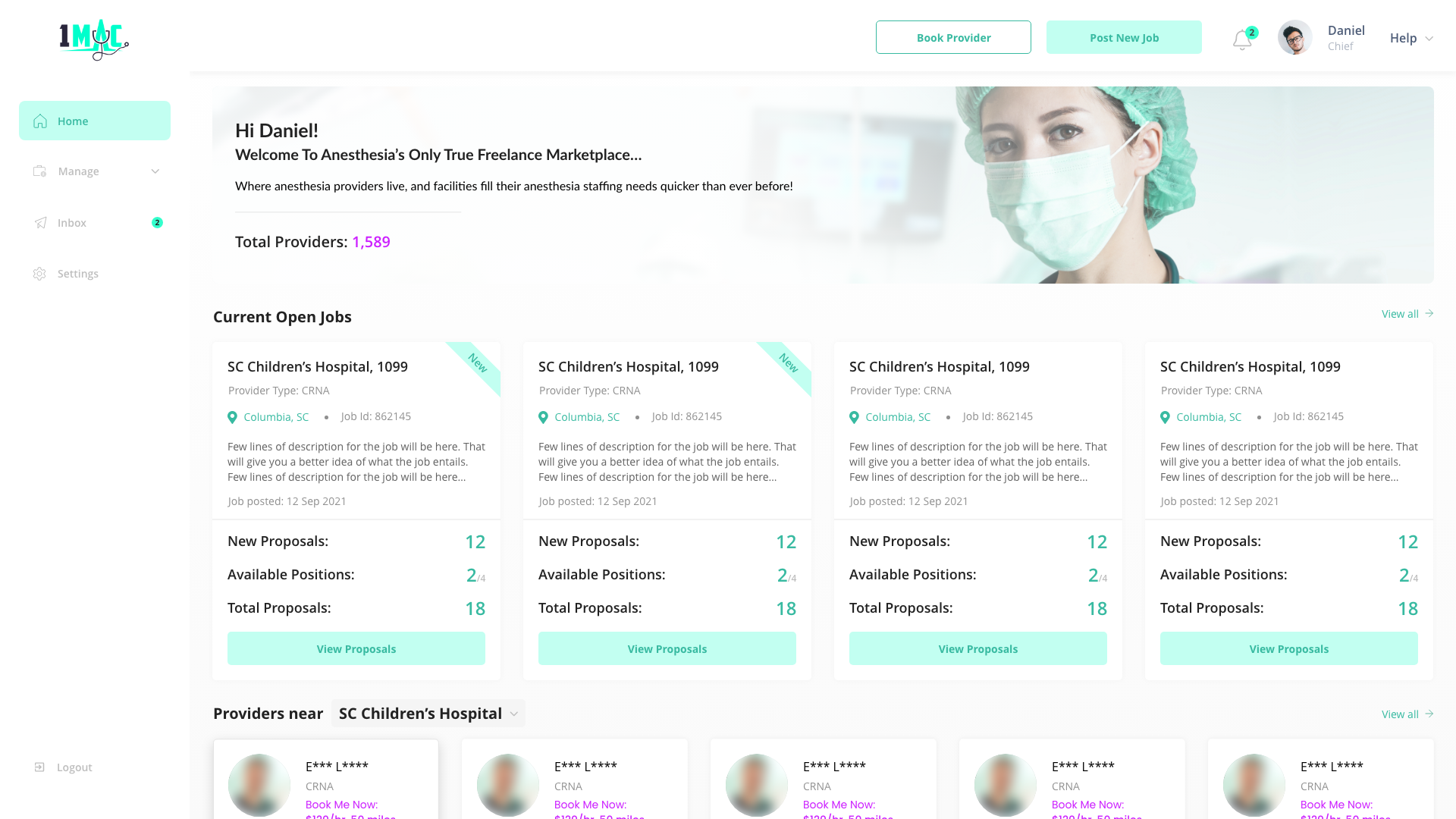 The Goal
Our collaboration with 1Mac stands as a testament to our ability to work seamlessly with overseas clients, particularly in building multi-sided marketplaces and medical software that meet the unique needs of the healthcare industry. Despite the geographical distance between South Carolina, U.S., and South Australia, our partnership thrived. Together, we have created an innovative, secure, and compliant solution that will transform how anaesthesia providers and facilities connect and negotiate contracts.