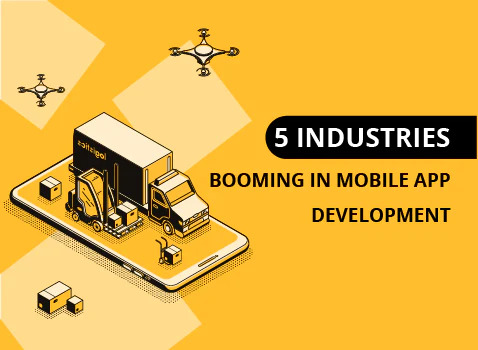 The mobile app industry is booming, and mobile technology has found its way into every aspect of our lives. We use mobile apps for everything from making a purchase to booking a flight or even just checking the weather. Mobile technology is more popular than ever before. With mobile apps being so widely used in today's society, it should come as no surprise that many industries are taking notice and investing in mobile app development. In this article, we will discuss five industries that have been funding mobile app development and why these industries are seeing such high levels of growth!
1. Healthcare and Medical Industries
The Healthcare and Medical industries are booming in mobile app development and Covid is fuelling the growth. With the amount of data that needs to be collected daily in healthcare, mobile apps help medical professionals complete tasks quickly without having to switch through many different devices - everything can all be completed on mobile phones! The health care industry is growing in mobile app development for consumers to manage their health care accounts, track fitness activity through mobile apps, connect with doctors at local hospitals or clinics, and research new treatments on the go. Mobile app development companies are growing by building mobile apps for these thriving businesses.
Mobile apps are also making mobile technology more accessible to the healthcare industry by using mobile apps for medical personnel. Mobile app development is projected to keep booming within the in-demand sector of healthcare. Professionals with mobile devices can have access to up-to-date patient information wherever they go, when on-call or travelling between offices and facilities.
Mobile apps are growing in popularity in the pharmaceutical industry. Mobile technology allows pharmacies to reach their customers through mobile prescriptions and mobile health monitoring of chronic conditions like diabetes or heart disease. Users can take pictures with their mobile device to send in prescription requests electronically, view doctor's orders for medication refills and set reminders for medicine dosing schedules.
2. Fashion and E-Commerce
Mobile apps have become a necessity for all businesses looking to sell products online, from small-scale individual sellers to large e-commerce companies. Apps are able to provide consumers with quick access and information on their favourite brands while also engaging them in the brand through discounts or special promotions. The Fashion and E-Commerce industry is developing a high number of mobile apps, and in the current climate we can see why. Retailers want to provide consumers with an interactive shopping experience, while developing mobile apps to provide mobile payment options, mobile coupons and mobile storage of gift cards.
Mobile app development in the Fashion and E-Commerce industry has been rising more and more mobile app development for these industries are being funded. Due to Covid, mobile apps have been helping businesses in the fashion and e-commerce industry maximise growth opportunities by providing new ways to connect with customers across mobile devices. Mobile technology has given businesses the ability to create mobile shopping experiences that give consumers access everywhere they go, which is one of the reasons investing in an e-commerce app is a good idea for mobile app developers.
Mobile apps in the Fashion and E-Commerce industry has successfully increased mobile revenue for businesses by offering product promotions, exclusive deals and discounts on mobile devices, which has helped mobile shopping increase dramatically in 2021.
3. Financial Services
The Financial Services Industry is also booming in mobile app development for consumers who want to manage their accounts on the go. Due to Covid, there are many growth opportunities for financial services providers. Many banking institutions throughout Covid have funded the development of mobile deposit capture apps that provide mobile check deposits and mobile bill pay. These mobile applications help users to transfer money from one account to another or even use their mobile devices as debit cards when they make a purchase at any retail store anywhere around the world. Many eateries or service providers are only accepting card rather than cash to limit the amount of contact. Financial Services have used mobile app development to add technology to day to day operations and keep the business afloat throughout Covid. There are other mobile apps used in banking, for confirmation of deposit, for mobile credit card processing and many other benefits to the finance industry.
4. Education Industry
Mobile apps are being developed more and more within the education industry, which allows students who attend schools or universities anywhere around the world access to their schoolwork anytime on mobile devices. Educational mobile apps help improve academic performance as well as make it easier for students to access their course material. Mobile learning is on the rise, and Covid has increased the level of mobile app development within the educational sectors. Teachers are able to use mobile technology in classrooms by using devices such as iPads. Devices can be used to teach students all sorts of subjects at higher education levels. Mobile technology is making it even easier to access education from anywhere and mobile app development will continue booming within the industry as mobile learning becomes more popular with students attending schools or universities all over the world.
5. Transportation & Logistics Industry (TLI)
There is a mobile app development boom within the Transportation and Logistics Industry. There are mobile app developments being funded predominantly for trucking and shipping companies. From mobile apps for truck drivers, to mobile apps for shipping companies, mobile technology is making it more convenient than ever for businesses operating within transport to get their jobs done more efficiently.
Mobile app development will continue to boom within the Transportation and Logistics Industry as technology becomes even more integrated within society and day to day operations. Mobile devices such as smartphones make communicating easier for employees in these in-demand industries.
To wrap it up, the 5 industries booming in mobile app development include healthcare, fashion, financial services, education, and transport & logistics.
PixelForce has experience in developing mobile apps in all the booming industries mentioned in this blog, as well as many more. As a premium service provider, the team have proven experience in developing dynamic web services and quality mobile apps. If you're eager to find out more, book a free 30 minute consult.
If you're interested in developing a mobile app for your industry, book a free 30 minute consult.