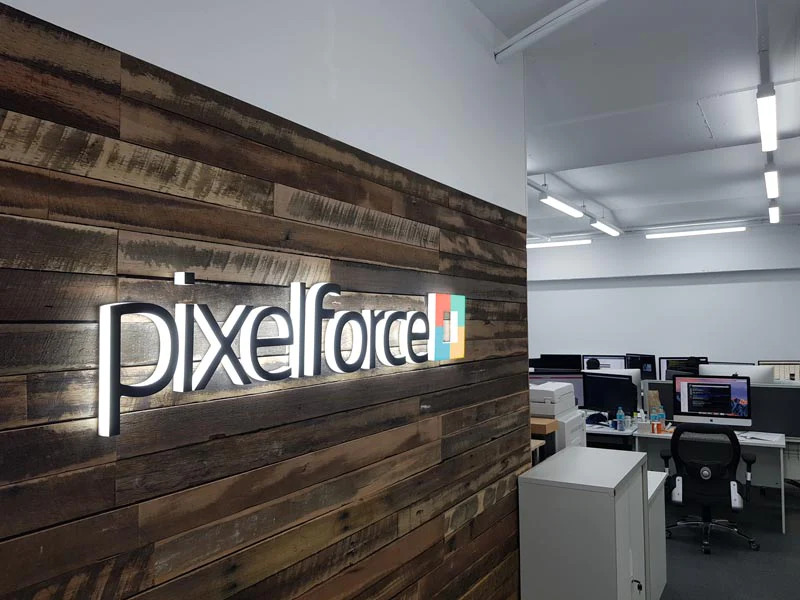 We're in our seventh year on the market and we're officially one of SA's fastest growing businesses. Discover a little bit about PixelForce, how we began, and the drive that got us to where we are today.
2011
The PixelForce story began as a final year university project our Managing Director, Hinney Lo, undertook with a fellow classmate. Designing branding assets for a mock business, the idea grew into a full blown business venture. From this moment, PixelForce Digital was born and from humble beginings, our web design services were offered to the public for the first time.
2012
With a Masters in Design and a sound understanding of all things digital, Hinney saw great potential in web design. Along with fellow friend and business partner, Ben Zhang took on the role of web developer, ensuring Hinney's designs met excellent function on a backend level. With a web designer and web developer working together in unison, PixelForce Digital adapted the name to PixelForce Systems and operated a small office in Adelaide's CBD.
2013
PixelForce Systems, in our early days, had great relationships with a number of clients from the wine industry, notably Angove Wines and Stones. Many early projects involved a range of graphic design and web development services, specifically eCommerce. With Hinney leading the helm in web design and Ben leading web development, our tiny web studio embraced every new project and started gaining a reputation for quality web designs.
2014
With an increasing number of projects, we needed to grow. From our first office in the Adelaide CBD, we moved to a larger and more spacious Norwood office, just minutes from the city. Sensing the mobile trend of increasing app usage, PixelForce Systems also expanded our mobile developers team to support the wave of mobile app specific projects. At this time, PixelForce were starting to really shine. We were trusted time and time again with more mobile app projects, both enterprise level and new startups.2015
With a new beginning in mind, we again adapted our name to now simply PixelForce and established a core team of senior mobile app developers, including specialised iOS and Android app developers. With a strong developer team for both web and mobile projects, our talented teams were again put to the test with the rollout of a new mobile app with a worldwide user base. With many late nights, PixelForce and Kayla Itsines were proud to announce the release of the workout and meal plans app Sweat with Kayla.
2016
With our continued success and strong ambitions to grow, PixelForce began to acquire a large number of talented designers and developers to support the wave of incoming projects. Having quickly outgrown the Norwood office, PixelForce saw the opening of a development and production suite at Parkside, where our internal web and mobile app developers were relocated. With PixelForce operating from two offices, the future was looking bright.
2017
With another great year passed and a happy team of designers and developers, PixelForce secured a new open space big enough to hold every employee under the same roof. We renovated the space to encompass a modern and collaborative workspace, with open columns intertwined with digital devices and neat technological gadgets. The development team now sits in a completely open floor, needing only a quick head turn to speak with coworkers. With a strong reputation, PixelForce was trusted with the branding, marketing, and development of several new projects notably SWEAT and Beston Food Groups.
2018
PixelForce was recognised as one of South Australia's top 25 fast moving businesses in South Australia by Brand SA - in fact we finished in the top 10, placing 6th!The Future
As a digital services company, we've always touched upon various small marketing services here and there. Seeing similar trends over the past years, PixelForce now proudly offers a range of marketing services from eDM campaigns, Google Adwords campaigns, and social media management. We're super excited to share with you new ideas, strategies, and campaigns side by side our core design and development services. Under the guidance of our expert marketing manager, PixelForce's future absolutely looks bright for digital innovation.

From a duo of uni graduates, PixelForce now proudly employs a family of around 30 talented people, each of whom have been a big part of our success story from a small university start up project to one of Adelaide's most talented studio in web design and mobile app development. With a bright future ahead of us, who know's where we'll be in one years time.
Mobile apps have become an integral part of our lives. More and more people are looking to build, and then find the appropriate way to monetise their mobile app in order to make money. But, with so many avenues available to you, how do you know which how to make money from your mobile app? In this blog post we will explore three different options on how you can monetise your mobile app - paid downloads, in-app purchases and ads.

Paid downloads: Paid downloads are a simple way to monetise your mobile app. With in-app purchases you can charge the user for specific features or levels of content within the app. This is usually done with one-time payments and doesn't require an internet connection. Paid downloads are simple and easy to start with and are not as intrusive to the user's experience. User experience is key to the success of your mobile app and should be considered as an ever-evolving process.

In-app purchases: In-app purchases are another great way to monetise your app. This is when the user is charged for specific features or levels of content within the app after downloading it from the Apple's App Store or Google Play store. In-app purchases don't need a credit card, they can simply use their iTunes account. They are effective because the user is only charged for specific features or levels of content within the app. This is usually done using a one-time payments and doesn't require an internet connection. In-app purchases are similar to a paid download in the sense that you're charging for specific features or levels of content within the app. The difference with this option is that these payments can be made at any time and can include one-time, monthly or yearly recurring subscriptions. This creates a way for users who might not have enough money available to purchase your app outright but still want access to certain aspects of it.

Ads: One of the most popular monetisation methods for mobile apps is in-app ads. This might include banner ads, video or full-screen interstitials ads that interrupt a user's experience with your app and asks them to complete an action before they can continue using it. The upside here is that this ad revenue will come in on a recurring basis as long as you're able to keep generating traffic through your app. The downside of using ads is that it limits the amount of user engagement you'll be able to generate and can add to the frustration of an app that has a high bounce rate. Ads are not generally used in apps if users are paying to download the app, but may be used in free apps as a way of generating revenue.

In this blog post we have explored three ways you can monetise your mobile app. Paid downloads, in-app purchases and ads are all viable options for making money with a product that is as ubiquitous as the smartphone. If you need help deciding which option would work best for your particular business model or if you want to explore other avenues of revenue generation not mentioned here, book a free 30 minute consult today!